flowers-p1 | lilies | tulips
Perfect for Easter or any Spring Occasion!
COUPON CODES AND PROMOTIONS:
Same Day and International Delivery
These fresh, sweet bouquets are sure to make her smile!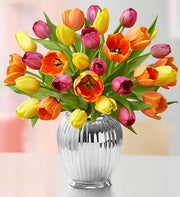 Delightful Multi-Color Tulip Bouquet
Choose a silver, pink, or clear vase. 15 or 30 stems.
Send her a rainbow! Show her how special she is!