Same Day Delivery; International Delivery
Tributes in Red, White, and Blue.
COUPON CODES AND PROMOTIONS:
Save 15% on Flowers and Gifts! Send smiles for any occasion at 1800Flowers.com.
Promo Code: 18F15PC at checkout.
Perfect floral arrangements for independence Day, Memorial Day, Veteran's Day, welcoming home our troops,
or to honor the deceased who have served our country well.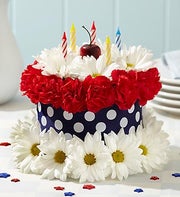 Liberty Dreams Flower Cake
Patriotic Heart
Red, white and blue carnations in the shape of a heart to symbolize the American flag creates a patriotic display to celebrate devotion and service to our country. This makes a lovely tribute to a veteran or to a member of the United States armed forces.
Flora2000
BUY NOW: Special offer $10 off

Bethany's Boutique Gift Shop
[Bethanys Gift Shop] [Flower Shop]