Always FREE Presonalization at Personalization Mall!
Looking for unique & creative ideas? If you're looking for a 21st, 30th, 40th, 50th, or 60th birthday gift , wish them a happy day with a special, personalized present to celebrate! Perfect for hard-to-shop-for friends and family! For men, we have a large selection of sports gifts, barware, & accessories. For women, we have jewelry, apparel, and keepsake gifts.
Children always get excited to see their own name on their gifts so personalized gifts for kids are always a popular choice. Personalized gifts for babies make wonderful heirloom keepsake that they are sure to treasure for years to come. Commemorate milestones with picture frames, photo albums, coffee mugs & apparel! Though the party only lasts a single day, personalized gifts capture memories to last a lifetime!
[birthday gifts- p1] [p2] [p3] [kids gifts- p4]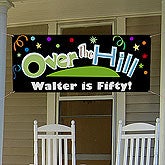 Over the Hill© Personalized Birthday Banner
Personalized Birthday
Signature Mat Frame
ANY NAME, ANY AGE

Unique, Personalized
Birthday Coffee Mug
ANY NAME, ANY AGE
White, 10 oz Ceramic Coffee Mug,
dishwasher & microwave safe

Add to the party fun with this personalized signature mat & frame!
Fun Signature Mat Frame is printed with name & age.
creative gift ideas:
Before the party: For extra fun, put a 5"x7" "before" baby photo in the mat. At the party, each guest writes a special message.
After the party: Replace the "before" photo with a great picture from the party.

A perfect gift for any birthday celebration, from co-workers to friends, to family! Celebrate with this fun & festive Coffee Mug, personalized with name and age.
creative gift idea:
Make this gift even more unique by including their favorite gourmet coffee, tea, or cocoa. Or fill the mug with candy kisses. Or a pretty flowering plant!

Birthday Memories© Personalized Photo Album

Personalized Golf Balls

customer favorite!
ANY NAME, ANY AGE
Personalized with any name, any age, or message, this is a unique gift for sure!
message ideas: 21st Bash!, Sweet Sixteen, 40 and Fabulous!

Choose Callaway or Top-Flite.
Choose from 10 colorful graphics and we will imprint their name, date, or Any Custom Message you choose!
golf message idea: Have a par-fect birthday!

Fortunes of Longevity Silver Fortune Cookie
any message!

Creative Birthday Cheers Personalized
Photo Frame
ANY NAME, ANY AGE
blue, red, black, or reversed white

Here's your chance to wish them good fortune with a gift they will never forget!

Cookie comes in a Chinese take-out box with the symbol for "Longevity" printed on the outside. The box is stuffed with red raffia for a fun and festive presentation!
creative message ideas:
"Happy birthday to my sweet cookie!"
"I'm so fortune-ate to have you in my life!"

Here's the perfect gift for lasting memories
of their big day.

Their age & name make up
the design of this unique photo frame!
You may also include nicknames or titles, and year. Choose from 6 frame color combinations, & you've created a special gift to remember a special celebration! 4" x 6" photo.
creative gift idea: On the big day, take lots
of pictures of the guest of honor, and let them choose their favorite for this frame.
Discover unique, personalized gifts for men, women & kids: t-shirts, sweatshirts, mugs, photo frames, hundreds of personalized gift items to choose from!

Whether they're turning sweet 16, 21, 40, or 100, we have an unforgettable way to "Cheer" their special day!
Unique, Personalized Birthday Gift Ideas
Find Hundreds More
Personalized Birthday Gifts from PersonalizationMall.com

[Unique Personalized Gifts]
[Bethanys Boutique gifts]